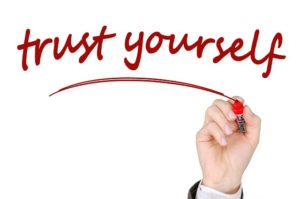 "Wow! You're so smart! That's AMAZING!"
Moms say stuff like this all the time. In fact, kids have almost come to expect it. But the problem with this kind of lavish, even unearned, praise is that it can hook us into believing our self-esteem is dependent upon others – and that means we can spend years seeking external approval instead of developing inner resilience. It might have worked in a dysfunctional way when we were kids, but it's less tenable once we're grown. I mean, when's the last time someone gave you a gold star and sung your praises in the bright, sunshine yellow tones of a kindergarten teacher? Yeah, it's been a while for me, too. It turns out – of course it does! – that confidence is an inside job.
Some of us were born with a natural tendency toward resiliency; others, like Highly Sensitive People (HSPs), are more prone to anxiety than the average bear. But all of us are stronger when we learn to harness the power of our own thoughts, and when we master the skills to bolster self-confidence from within. Neuroscience tells us that new thoughts, which are, after all, merely electrical impulses, make physical changes in our brains: creating new neural connections that, when repeated, become stronger and stronger over time. In other words, any action we can take, from thinking a new thought to trying a new way of behaving, can become a part of us. Confidence is about believing in your ability to master something. As the late Henry Ford said, "Whether you think you can or you think you can't, you're right."
Anyone else reminded of that fine piece of motivational fiction, The Little Engine That Could?
I've done a lot of reading about and research into strategies and habits that boost confidence, and I've compiled 7 of the ones I find most effective here:
1. ACCEPT THE COMPLIMENT. When someone acknowledges your achievements, your talents, your strengths, or even your hairstyle, resist the urge to shrug it off. When you respond with dismissive discomfort, it not only makes the person who reached out to you feel crummy, it also keeps you in a loop of self-doubt. Say "thank you" and own your awesomeness. Allow that feeling of being seen and acknowledged to really sink in.
2. RUMINATE RESPONSIBLY. One of the biggest factors in low self-esteem (and insomnia) is the inability to let go of mistakes, errors in judgment, and defeats. Failure is an inevitable part of the road to mastery, but when we obsess about it, we are giving our energy to the past, where it accomplishes nothing but keeping us stewing in discomfort. Ruminate if you must, but make a plan that puts you in control of the experience. Set a timer for 5 minutes and spend that time dwelling on your mistake in excruciating detail. What do you regret saying or not saying, doing or not doing? Worry as much as you can, over-exaggerate the experience. Then, when the timer goes off, shake it off and get on with something completely different. You can schedule another worry session later if you have to, but don't let it rule every minute of your day (or night).
3. EMBRACE THE FAIL. As stated above, if you're willing to grow, you'll spend necessary and critical time outside your comfort zone doing things you may never have done before. It's a guarantee that you will metaphorically fall on your face more than a few times. When we embrace the idea that failure is normal, the less painful it becomes when things don't go as expected. This doesn't mean that you'll be giddily embracing failure and laughing into the face of defeat, but it does mean you won't let mistakes stop you in your tracks. Allow yourself to feel the disappointment, and then ask yourself, "What did I learn from this experience? What would I do differently next time? What's the truth in here for me? Who can I ask for help?"
4. ROCK YOUR WEIRD. The things that make you, you are your greatest assets. But when we try to win over others by pretending to go along with the crowd, we dilute our individuality and homogenize our uniqueness. It's like removing the chocolate chips from the chocolate chip ice cream. You're just left with plain ol' vanilla. By trying to fit in and be liked, you suppress and hide your self-perceived weaknesses. What if your weaknesses were actually your greatest strengths? Many of the most influential people of our time – Albert Einstein, Lady Gaga, Bill Gates – were likely considered to be patently weird.
5. GET OVER YOURSELF! That sounds harsh, but what I mean here is that whatever's going on with other people, including the way they treat you, isn't about you, it's about them. Every one of us lives a rich, complex, and even contradictory interior life, and we're pretty busy with that, bustling around inside our own heads. That guy who you think deliberately cut you off in traffic was likely late to work and didn't even see you. The receptionist who never says hello to you is probably thinking about something else. When you make everything about you, you set yourself up for a world of hurt that doesn't belong to you, and you create unrealistic expectations of others that inevitably do a number on your confidence.
6. SIT UP. Yeah, it turns out Grandma was right about good posture: it benefits you to sit up straight, with abs tucked in, chin level, and spine stretched long. Not only does it keep aches and pains at bay, but the physical adoption of a confident posture will carry over into your emotional experience. Looking confident is a surprisingly simple step toward actually feeling confident.
7. TAKE ONE STEP. Do one small, brave thing. Studies show that when you take a small and courageous action step towards a goal, it makes the next one easier – and from this kind of momentum, confidence flows. You can read about confidence, as I have, all you want, but feeling it in your core comes from less from talking about it and more from doing it. Take action.
If you trace the etymology of confidence back far enough, you get to the Latin root words for "trust," and that's ultimately what true confidence is: trust in yourself. When you believe that you are enough, you are able to trust not in the whims of circumstance, but in yourself. The ultimate act of confidence is to have faith that you are up to handling whatever life throws your way.
Take my self-confidence quiz now!
Love it? Please Share!